PRODUCTION COLOUR 
If you are considering introducing a digital solution to your Company, or upgrading your existing system, we would be pleased to discuss your situation, with a view to providing an independent appraisal.
NEW multi functional digital colour printer - XANTE ENPRES
Specialist Printer for Short Run Colour, Envelopes & Polyester PlateMaking
The En/Press Digital Multi-Media Print System allows you to do more for your customers
Print on a wider variety of media and in a wider range of sheet sizes
Up to 4,000 full colour envelopes per hour
Features a lower cost per sheet
Run full colour jobs including variable data in one pass
iQueue Simply Brilliant Workflow automates prepress production and provides critical colour adjustments
IQUEUE WORKFLOW SOFTWARE
True Adobe® PostScript® is at the core of iQueue and it's packed with advanced imaging features. iQueue could not be easier to use. With beautiful spot colour matching, full imposition, fast variable data and so much more, iQueue XII keeps your jobs on the shop floor and out the door. iQueue is for everyone.
The powerful iQueue workflow software includes a site license which means you have unlimited installs for all the users at your shop. Everyone can use all the powerful features of iQueue and you can easily share jobs between users.
See short video below for an overview of the EnPress Digital Colour Printer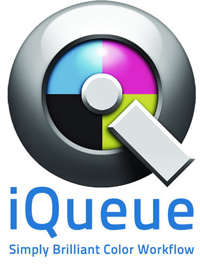 LARGE FORMAT PRINTING
New Dye and Pigment Large Format Systems can be supplied from a range of manufacturers, including Epson, Canon & Hewlett Packard.
Systems from 17" Wide to 64" Wide can be installed with the appropriate RIP for most applications - either bespoke colour proofing or short-run printing for indoor posters and banners.
We can also supply a wide format RIP solution to produce Screen Imaging Film for large format Systems (see Screen Film Imaging System on this website).
WIDE FORMAT SOLVENT PRINTING
We can supply Systems from leading suppliers for the production of posters, banners and any type of signage that is durable enough for outdoor usage.
---